Now looking for great host families! Get your application in now!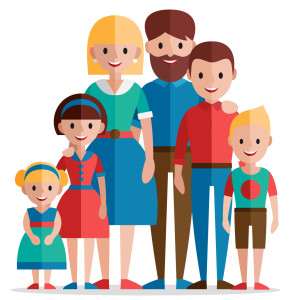 Thank you for your interest in hosting.
4-Week Hosting Program
Who Comes?
25 Costa Rican high school students will be in Oregon/SW Washington for eight weeks and will each live with two families and attend school. They are accompanied by two chaperones.

When?
Oregon/Washington families may host a Costa Rican student for one of the following 4-week sessions:
December 08, 2018 - January 05, 2019 or January 06, 2019 - February 02, 2019
Why?
Costa Rican students come to Oregon/Washington to improve their English skills, attend high school, and experience family life in Oregon/Washington. Oregon/Washington families get to learn about Costa Rica and make long-lasting friendships.
How to Apply
All hosting families must have a high school student in the household. If you and your family are interested in hosting a Costa Rican student, you will be required to complete the steps below.
Step 1
The hosting application has three sections and can be completed online.
The first two sections should be completed by a parent and the last section is to be completed by the host student.
Hosting Application.
Step 2
Two confidential references need to be submitted using the form below.
Please have this form completed by two of the following persons who are acquainted with you: minister, employer, a family friend, high school principal, counselor, or teacher. To share the link to the Confidential Reference form, simply copy and paste the following address to the person required to complete the form. References may not be completed by relatives. Form URL: http://www.partnersorcr.com/confidential-references/
Confidential Reference
Step 3
Submit a completed and signed School Permission Form
Email a scanned copy to: [email protected]
If there are any issues with this application, please contact the Hosting Coordinator at:
[email protected]
Review Important Dates
Review all the important upcoming Northbound Hosting Family dates. If there are no dates listed below, please click Northbound Important Dates, to see a list of important dates for Northbound (hosting) families.

Frequently Asked Questions
Q. Can I host with only one parent?
A. Absolutely. Costa Rican students come expecting to experience a variety of family lifestyles in Oregon/Washington.
Q. Can the Costa Rican student share a bedroom?
A. Yes, the student must have their own bed but it is perfectly acceptable to share a room with a family member of the same gender.
Q. Does our family have to speak Spanish?
A. No! The Costa Rican student comes to Oregon/Washington to improve English skills.
Q. Do I have to be taking Spanish to host?
A. No.
Q. Is it expensive to host?
A. Your family is expected to provide room and board for the Costa Rican student. The student brings money for his/her incidental expenses.
Q. What happens if the Costa Rican student gets sick?
A. Costa Rican students come to Oregon/Washington with their own medical insurance.
Q. Do we have to cook special food?
A. No. Let the Costa Rican student experience your normal mealtime routines.
Q. What does the Costa Rican student do about high school?
A. The student attends high school with his/her host brother/sister, but does not enroll in classes.
Q. What happens if we have questions?
A. The two Costa Rican chaperones accompanying the students are in Oregon/Washington to assist host families and students. The Oregon/Washington Program Coordinator and the Exchange Committee are also available to assist you.
Q. What if my family has travel plans?
A. Include the Costa Rican student in your plans.